Purnea University: Degree Part 2 (Session 2020-23) Exam Programme
Purnea University: Degree Part 2 (Session 2020-23) Exam Programme
Purnea University: Degree Part 2 (Session 2020-23) Exam Programme
Important Dates
Exam Form Fill up date :

30 January 2023

Exam Date :

24 February 2023 to 14 March 2023

Admit Card :

18 February 2023
Purnea University: Degree Part 2 (Session 2020-23) Examination Fee
Non- Practical Subject: 650/-
Practical Subject: 850/-
Important Message
पूर्णिया यूनिवर्सिटी के पार्ट 2 परीक्षा 2022 के लिए इंतजार कर रहे सभी छात्र छात्रा निर्धारित तिथि तक परीक्षा फॉर्म अवश्य भर लें
लॉग इन करने के लिए यूजर आईडी में Registration और पासवर्ड में "password" देना है।
Required Documents
रजिस्ट्रेशन कार्ड लॉगिन करने के लिए
Part 1 का मार्कशीट
ईमेल आईडी
जन्मतिथि
मोबाइल नंबर
पासपोर्ट साइज फ़ोटो
सिग्नेचर (हस्ताक्षर)
Address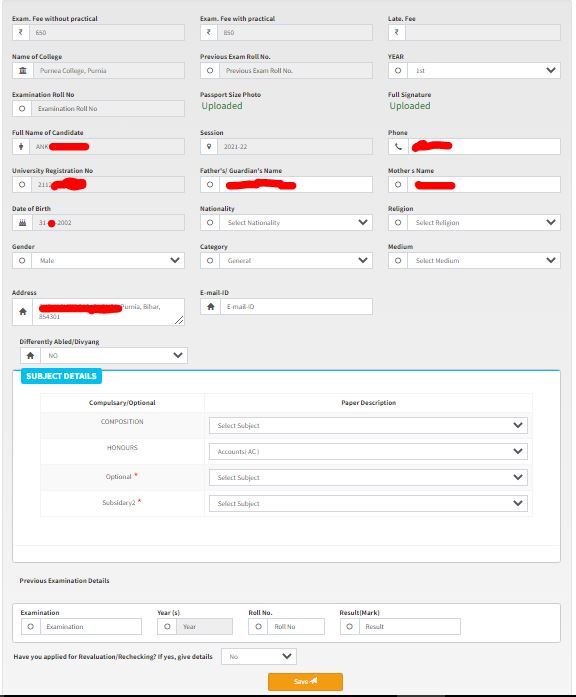 How to Form Fill-up?
Slide down and go to Important Links section
Fill the Registration number as user id and roll number as password, select college and fill catch code then click to Login.
After login select all details and click Template
Fill the required details and save.
Then payment and print out the confirmation of payment and final pdf.
Previous Dates
Exam Form Fill up date :

06 January 2023 to 14 January 2023

Exam Form Fill up date :

20 January 2023 to 23 January 2023